We have years of experience helping professionals like you find good paying clients from the web.

Our specialty is using the power of the internet to find you affluent clients and help you sell high priced products online so you can take your company to the next level and increase your bottom line.

What would a few new high paying clients do for your business? How about 10 new high paying clients? How about 300 new affluent, high paying clients?

What would you do with the extra money? How would it improve the quality of your life? What enjoyable purchases would you make that you have been holding back on?

If you like doing internet marketing work yourself, click here to find out about the e-book. If think you might like AffluentClients.com to do the work for you, please keep reading.

AffluentClients.com is a flexible internet marketing company that offers custom solutions and hands on help from the president of the company rather than a corporate cookie cutter approach.

We use time tested techniques for finding affluent clients combined with 12+ years of cutting edge internet marketing experience to help you increase your revenues.

We are small enough to give you personalized attention and custom build a solution for you.

What's rare about Rob Cross, the chief strategist of AffluentClients.com, is that he knows how to build Web sites, write good sales copy that compels people to buy and he's an expert in search engine optimization (getting sites good rankings in the search engines).

Normally you will have a Web design firm that makes beautiful Web sites, but knows very little about how to achieve high search engine rankings.

Or you might find a great copywriter that knows how to convince someone to buy your products or services, but they really don't know how to get you lots of traffic to your site.

Rob is very knowledgeable about how to use the web to help you appear to be an expert and he knows how to position you in front of wealthy clients while convincing them you are the individual or company they should hire or purchase from.

Most internet marketing companies do not have the same kind of knowledge and experience that Rob Cross has regarding positioning you properly in front of the affluent customer.

The style of assistance you get from Rob is creative, experienced, professional and strategic in a supportive and non-stuffy manner.
Bio:
Rob Cross lives in a San Diego and specializes in helping companies find affluent clients from the Internet, but works with companies selling all kinds of products and services.

Rob was the lead Internet marketing consultant for approximately three years for one of the largest alternative investment firms in La Jolla, CA. He has also consulted for numerous other companies helping them find affluent clients in market segments such as luxury hotels, industrial products, hedge funds, cancer hospitals, and interior design.

Rob is the author of the critically acclaimed book "Insider Secrets - How To Sell High Priced Products And Services Online".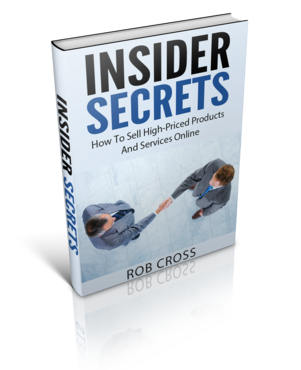 He has been a guest expert contributor for the award winning Marketing Experiments Journal. He was also praised by a member of "I-Sales" (a respected internet marketing discussion group comprised of over 10,000 professionals) as having written "The best article on how to generate traffic to a web site that I have ever read."

Rob has spoken regularly in the San Diego Area to audiences about how to find affluent customers online.

Rob graduated with honors with a degree in computer science in 1987 from Southern Oregon State College.

Before entering the internet marketing field, Rob was a computer programmer working in markets such as educational programming and public safety.

Rob has owned a successful Internet marketing company in Southern California for over twelve years.




Look At Our Results:
Here's proof that we know how to get our own and our client's sites ranked.



AffluentClients.com rankings on Google as of 10/28/14:


| Keyword | Position | Out Of: |
| --- | --- | --- |
| affluent clients | 2 Google | 912,000 |
William Howard Taft University (Taftu.edu) of Santa Ana CA rankings on Google as of 10/28/14:


| Keyword | Position | Out Of: |
| --- | --- | --- |
| online juris doctor degree | 2 Google | 392,000 |
| online law degree | 5 Google | 127,000,000 |
| online law school | 3 Google | 325,000,000 |
| online jd degree | 1 Google | 121,000,000 |
| nationally accredited distance learning law school | 1 Google | 1,121,000 |
| distance learning law school | 1 Google | 23,200,000 |
| nationally accredited online law school | 3 Google | 2,830,000 |
Alan Kaye Insurance Agency, Inc. (califeins.com) rankings as of 10/28/14:


| Keyword | Position | Out Of: |
| --- | --- | --- |
| beverly hills sell life insurance policy | 1 Google | 1,200,000 |
| beverly hills life insurance policy | 1 Google | 1,827,000 |
| hollywood hills senior life settlement | 1 Google | 2,680,000 results |
Jetters Northwest (www.jettersnorthwest.com) rankings on Google as of 10/28/14:


| Keyword | Position | Out Of: |
| --- | --- | --- |
| seattle jetter | 1 Google | 589,000 results |
| washington jetters | 1,2 and 3 Google | 128 sites |
"Hey Rob, I just wanted to thank you, my site is #1 on yahoo and generally top 3 on Google for all my keywords.

I'm getting lots of traffic and am pretty much booked solid. I appreciate all your SEO magic for my little site!"



- Kevin Law:
Kevin Law Photography
www.kevinlawphotography.com
Los Angeles, CA
"I highly recommend Rob Cross and his specialized internet marketing help. I quickly made back more than what I paid him in fees.

I set what he did on auto-pilot, I haven't touched it for months, and I'm still getting calls from big purchase prospects on a regular basis because of his efforts."



- Richard Worcester:
78homes.com
Carlsbad, CA


Call now if you have any questions or would like a free consultation.

There is no obligation, so feel free to make a quick call to see if we can help increase your revenues and bottom line.

You may be surprised at the amount of new affluent clients your company can get with the help of our methods. You could be losing a great deal of profits by not getting the right kind of help finding affluent clients online.

Ask about how we can help you create an e-book or a high value digital product that helps improve your bottom line.

There is a chance we may be able to work for you for no money up front and you only pay us if you make a profit. Contact us for details.

Best Regards,

Rob Cross
Chief Strategist
AffluentClients.com

Phone:
619-248-8351
Offices in:

San Diego
Los Angeles
Orange County

Rob Cross is also available to fly to meet with you all over the country if the project looks like it might be a fit.

Cell Phone: 619-248-8351
info@trafficprofits.com
---
| | |
| --- | --- |
| | |
Don't Forget: Be sure to sign up for the AffluentClients.com Letter so you will be kept up to date on all the latest updates for getting more affluent clients to your website!
Get the AffluentClients.com Letter to get all the latest updates for getting more affluent clients to your website!
Just enter your full name and email address then click the "Enter" button (All information kept 100% confidential).